January 31, 2012, Tuesday
Everywhere around Tianshan Road
Dear Mother,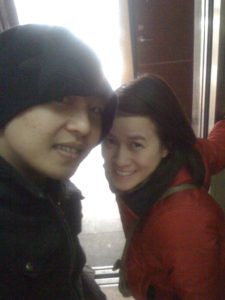 Today, Dave and I were off to go to Pines.
Dave got some information from his Filipino friends that we could get Bagoong, Bangus (Milk Fish) and other food products that we do not normally get in our local grocery store.
He has been hinting for a long time on how much he misses Bagoong. So, off we went.
On our way to get into the Metro Line 2, we stopped by the Online Ticket Machine to book a movie ticket for Wednesday, February 1, 2012. It is my first time to try out this service. This is another convenient way for paying utilities and buying movie tickets online.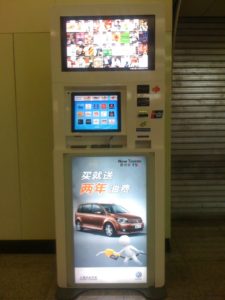 Dave and I have been planning to watch Mission Impossible 4 once it will be shown here in Shanghai. And according to some posters everywhere, it has been out this week.
I picked the Film Logo for movie tickets.
Choose the date and the movie you want to watch. Then press the orange box at the bottom left part of the screen to go to another screen. The next screen will show the list of movie houses where you can watch the film, screening schedules to choose from and most importantly, information on which movie theater will show the film in 英语, Ying1Yu3 (English).
It is also good to note that buying movie tickets this way is much cheaper than buying them at the movie houses. We bought our tickets for 38RMB per person but the movie house was priced at 100RMB – pretty good deal.
After getting our movie tickets, we then got into Line 2 Train, to continue to our journey to Pines, and get that Bangus.
The plan was to get off at Beijinxing Road Station then walk towards Jianhe Road to take Bus 91. This bus will take us to Pines.
However, it took a long time for the bus to arrive. While waiting, the 兰州拉面Restaurant across the street was very inviting.
It reminded me of the Chicken Noodles in Tomato Paste that I always order for lunch at work.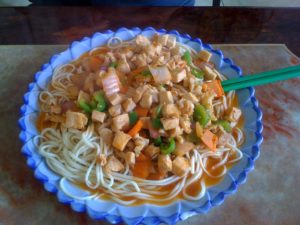 The restaurant was packed. And as they say with restaurant patrons, more people means food must be good.
This is Mr. Noodle, preparing the noodles of your choice.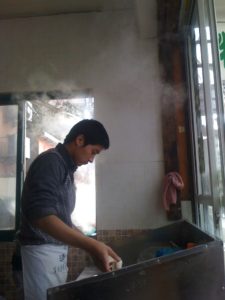 Rolling, rolling and rolling some more.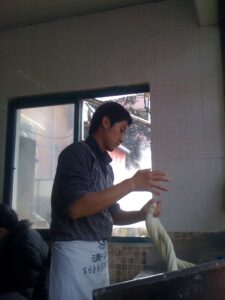 A little twist here and there.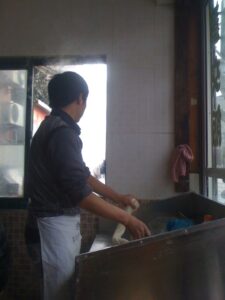 He throws the noodles into
that window, right into a pot of boiling water.
When my noodles were served, I was too hungry to remember to take picture of the final product. All I remember was it has a thicker sauce and a bit tastier than the ones I always had (pictured above).
After that sumptuous snack, it was time to go accomplish our mission.
We hop into Bus 91, and after four stops, we reached Pines, the Market Place.
And yes mother, we got our bangus, frozen.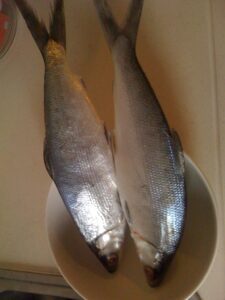 I am too lazy to rotate this picture.
These are my Bangus.
Now, we will try to remove the bones out from these bad boys so it would be much easier to eat.
Dave and I were watching some videos online on how to remove the bones. We need some mosquito forceps to do so and maybe some time this week, we will try to do just that.
That will be our next assignment.
~ Your loving daughter