July 14, 2012, Saturday
10:00sh AM
San Lorenzo Drive, corner Arnaiz Avenue, Makati
Mareng Wing and I decided to hang out around Makati before I go back to Shanghai. Convinced by a few, good
reviews
online, we decided to give Hotel Celeste a try.
The location was convenient, it is only a stone's throw away from the busy Ayala Center Malls and a short, cab ride away to Bonifacio Global City, Taguig.
According to some people in the blogosphere, it is one quaint, boutique hotel, with every room having its own unique interior design.
A view from our room overlooking Ayala Center Malls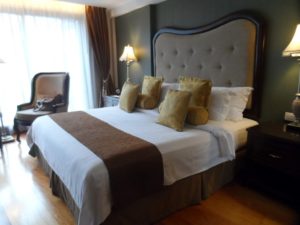 What happened to the twin bed room request?

Satisfaction served.
The hotel had a celestial weekend promo, for a weekend stay, you get Welcome Drinks (Read: Cool and refreshing bottled water), Overnight Accommodation in a Deluxe Room (with L'Occitane toiletries for the guests who are easily enamored by signature labels), Buffet Breakfast for 2 Persons, Welcome Foot & Leg Massage (Available on Fridays and Saturdays only: Yep, we did get this in room service, by a masseur at that. It took a lot of courage for me to keep a straight face and trust the masseur to do his work), Set Dinner for 2 Persons at Celi's Restaurant, 50% Off on 1-hr Full Body Massage, In-Room WiFi Access, Php 1,500 worth of Services at Slimmers World. (We did not avail of the Full Body Massage and the Slimmer's World offers).


The only negative comment I had is that one of the day-shift hotel receptionists had an attitude, she should not be be allowed to do hotel reception duty because clearly, she was not welcoming and not friendly at all. Fortunately, the night-shift hotel receptionist was the exact opposite. Overall, the accommodation was great and I would certainly recommend it to my friends. In fact, I would definitely come back.
For more insightful view of the hotel's interior, let me direct you to other satisfied guests. I can vouched for its accuracy.
* Disclaimer: We actually arrived too early, that our room was not available yet. We managed to get into the comfort of our hotel room around past 2:00sh PM. By that time, we were able to check out the Mind Museum in Taguig.