April 1, 2017
Washington, DC, USA
Back in June 20, 2016, I moved to Washington, DC with my husband. In June 22, I went for a job interview at a school in 15th St NW; the following day at another school in Hayes St. NE. I got back from the former and never heard from the other school.
The school at 15 St. and V NW is St. Augustine Catholic School, a pre-K through 8th grade Catholic school, sponsored by St. Augustine Catholic Church (the mother church of black Catholics in the District of Columbia, founded in 1858).
I officially joined the school (i.e. signed my teaching contract) in July 19, 2016.
Being a trooper, I did not waste time and started fixing my Science lab/classroom. The classroom/lab looked like a mess, period. All the clutter were piled up one after another inside the tall cabinets and opening the file cabinets was another story.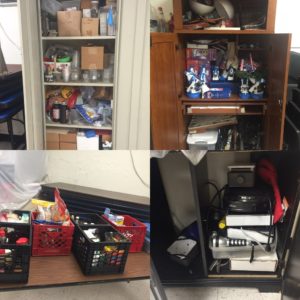 Most of the materials here are actually working and usable – I just needed 
to remove any unwanted sticky and gooey material formation
In my past schools, we had laboratory assistants and maintenance crews that will actually take care of the issues I was facing. In this school, it is good practice for you to step up and work on things as hard as you can to achieve your vision. The school has a very affordable tuition fee because the parish subsidizes about 60% of the actual cost of education per student.
My vision was to own this Science classroom. I was looking forward to a year of fun, active Science activities with every student who will come into my room. I was told that I will be the core Science teacher for grades 6-8 and will meet pre-K to 5th grade once a week for hands-on experiments.
My background is high school teaching. I started as a teacher in Philippine Science High School teaching Drafting Design, AutoCAD and Earth Science, moved on to teaching college engineering courses to teaching IGCSE Physics in international schools in Shanghai, China.
I have a passion for teaching middle school age-group students since it is very doable to introduce higher Science concepts into bitesize and understandable process through hands-on activities. The idea of being able to connect to pre-K to 5th graders for a 45-minute stand-alone experiments was very exciting to me. I used that as my driving force to organize my Science classroom.
Fortunately, the administrators in my school were very supportive of my vision. I told them that I understand the financial limitations of the school but there are Science lab characters that are non-negotiable: working microscopes (not toy microscopes), laboratory coats or aprons, basic chemical lab supplies, basic physical science lab supplies and cabinets for the glasswares and other necessities that needs to be securely stored.
I taped the floor with painters tape for boundary symbols for the lower grades (actually applies to 6th to 8th graders, as well). This was to make sure they do not touch lab materials in the cabinets and shelves.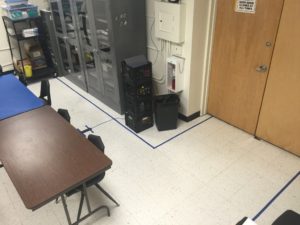 The milk crates were very useful to store basic kitchen chemistry essentials.
I meet 6th to 8th graders five times a week. We have practical experiments twice a week,  work on virtual laboratory experiments once a week and the other two days are spent learning concepts and shorter activities.
For the lower school, I prepare the same activities but vary the degree of challenge according to their grade levels. I document all the class activities and post this to our bloomz page and my Science class page.
My students joined me for STEM Design Studio during after school. Our activities have included connecting paper circuits, building motorized cars and designing houses using Google Sketch Up.
I maintained a class page to keep parents posted on what's going on in our classrooms and to show the community what our students are capable of working on.
The 3rd quarter for this academic year has just ended and the best is yet to come. We will be hosting our Science Fair Exhibit Display on 27th April, 2017 and our parish is promoting our STEM program.
Beginning next school year, our school will be strengthening the integration of more active learning activities in every classroom, not just in my Science classroom. Students will have more exposure to hands-on and blended space learning. I already have lots of ideas in store for more hands-on Science activities and collaboration opportunities with other Science classroom enthusiasts.